BENEFITS OF A LONG-TERM RELATIONSHIP
With a history spanning over 125 years, BCN is the no.1 bank in the canton of Neuchâtel. By repositioning and evolving its brand identity, BCN aims to differentiate itself from its competitors thanks to an exclusive proximity-based customer experience built on 3 fundamental pillars: its Neuchâtel-based heritage, its accessibility and human touch, and its simplicity and modernness.
Proximity, responsiveness, and convenience are key advantages BCN offers its clients. These elements help to establish long-term relationships based on trust. Because decisions made today nourish a brand's future legacy, the choice of positioning focuses on customer relationship predicated on time and the natural cycle of life.
Since 2011, Inox has worked closely with BCN on numerous projects involving the revamping of corporate collateral, the creation of information and sales brochures, developing management reporting, sponsorship and support activities, as well as the creation of a corporate website and mini-sites.
Positioned as a regular contact interface for BCN, Inox is the bank's guarantor for consistent and pertinent collateral support. With over 15 areas of expertise in-house, Inox exerts high-level responsiveness and creativity across all communication channels.
Inox Communication aspires to create long-lasting relationships with each client, because the more we understand you, the better we can continue to satisfy your needs.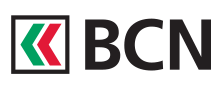 2018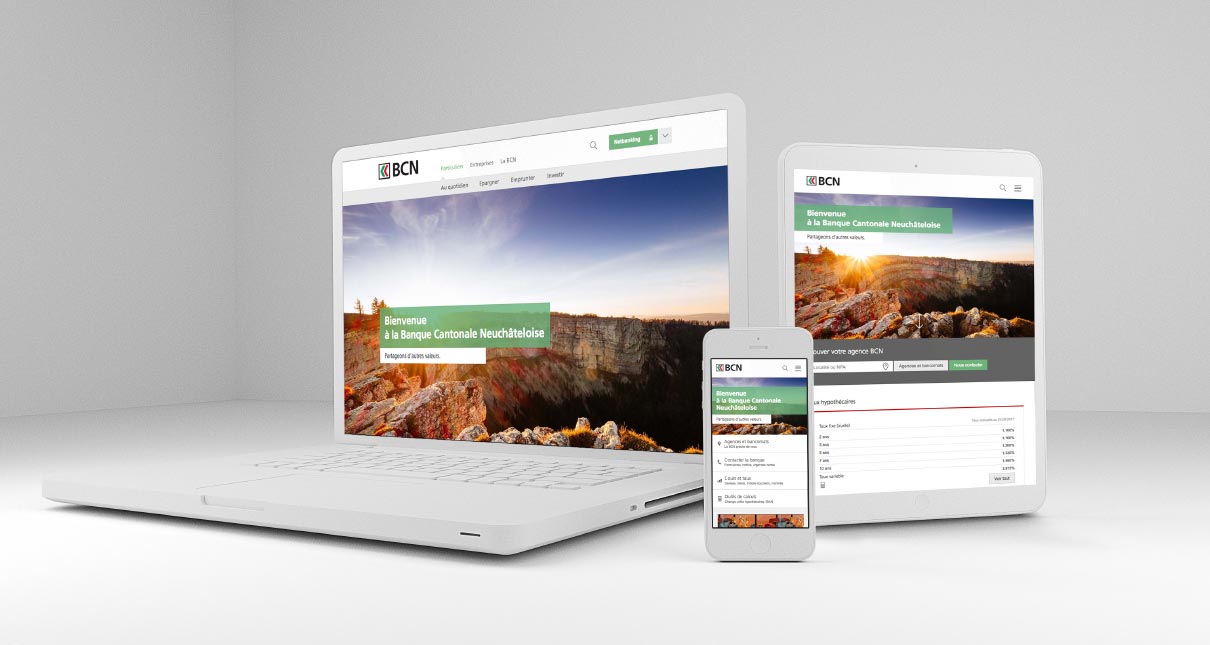 Long-term relationships make it possible to further push levels of excellence. For over 5 years, the BCN website has actively been in a state of continuous evolution versus revolution.
The end consumer is the focal point of every treatment. Thanks to analytical data collection, our UX experts, in collaboration with BCN's marketing team, successfully developed a new website and navigation system further in line with end consumer expectations. These upgrades included a simplified agency search, at-a-glance mortgage rates viewing, and a 2-click mortgage plan simulator, to name but a few.
2017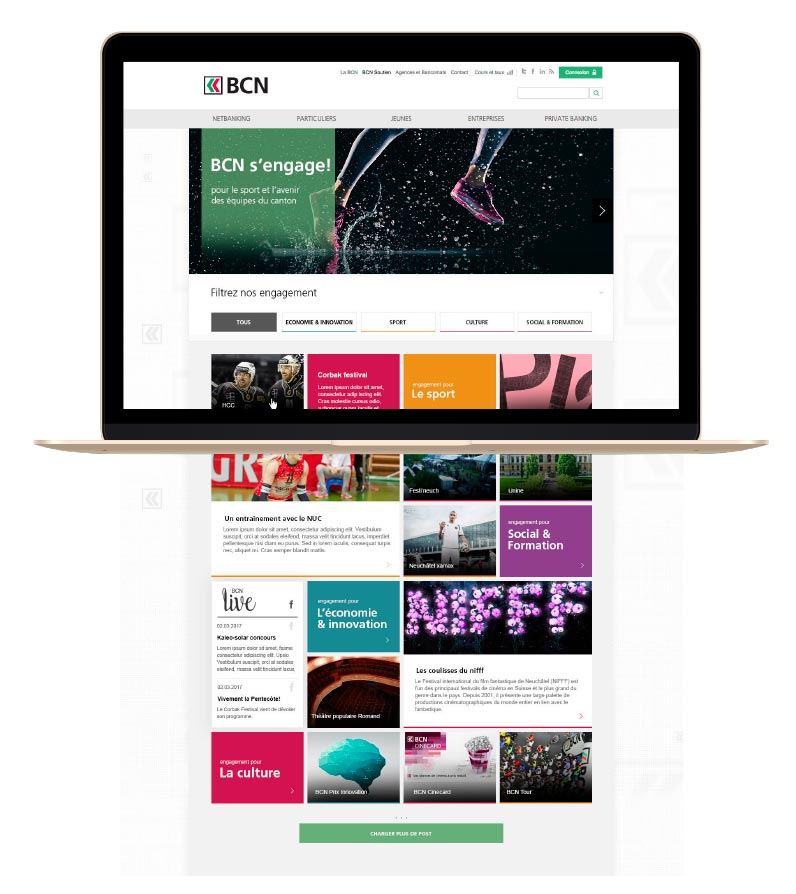 BCN has always played a crucial sponsorship role for art & culture, sport, the economy, society, and education in Neuchâtel. Until recently, however, these activities were rarely promoted on the bank's website. Since that time, Inox Communication has been mandated to develop a new web platform entirely dedicated towards promoting BCN sponsorships and social campaigns.
Campaign support has evolved into an interactive mosaic of independent media, offering video, photo galleries, and other forms of dynamic content. In order to further facilitate accessibility and reading, Inox has completely redesigned sponsorship types through colour coding and re-categorised all publications according to theme – offering a fresh and efficient solution to stimulating content for BCN and its visitors.
2016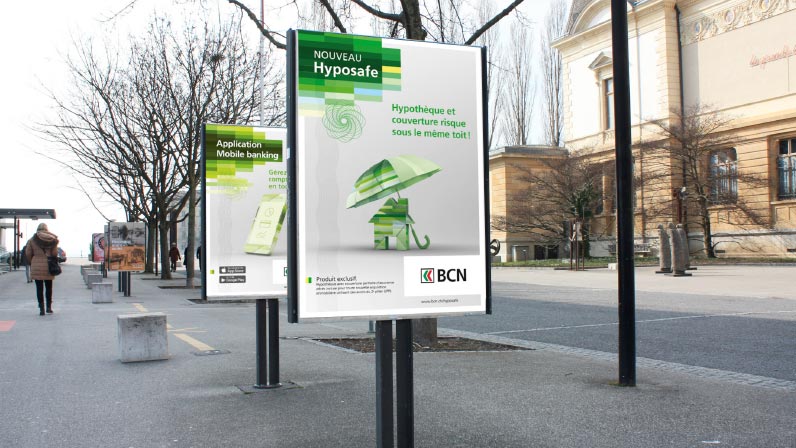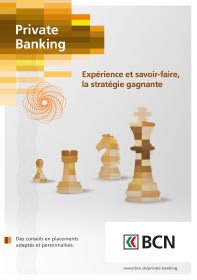 Long-term relationships also provide opportunities to collaborate on mega projects without inconveniencing end consumers. In 2016, BCN underwent a content management system migration from DRUPAL 6 to 7, providing increased security and streamlining processes without any discomfort to customers during the maintenance stage. Inox developers inconspicuously migrated BCN's website, thereby ensuring its sustainability and facilitating future developments.
Haven't you heard?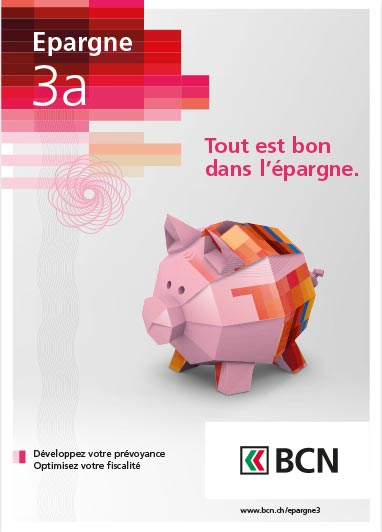 2015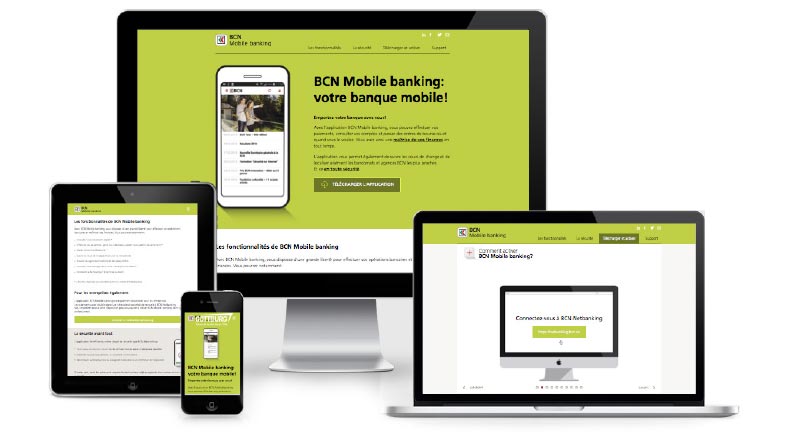 Mobile banking has arrived! To support the launch of BCN's mobile application, Inox Communication developed a launch campaign and an exclusive mini-site illustrating the uses and benefits of their new app. Simultaneously, Inox produced an interactive mobile and desktop tutorial guiding users through the tools available on the app. The BCN app provides a huge leap forward in mobility, a story to be continued...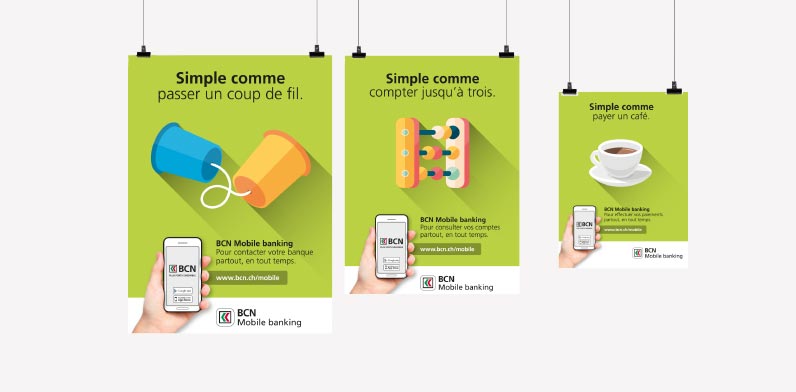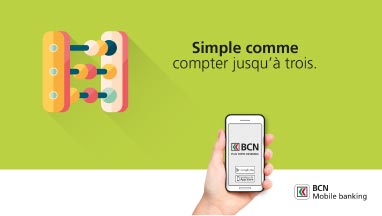 2014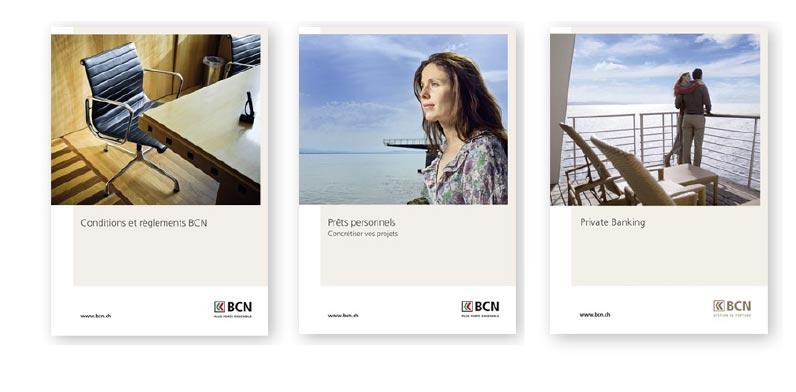 2011

Special care has been applied to maximise legibility and visual impact of the BCN logo to enhance its adaptability across all banking collateral. A corporate identity charter has been established to streamline and leverage the logo's application for corporate and commercial activities, as well as events. By developing unique environments, promotional support, and specific endorsements of its activities, Inox Communication is helping to differentiate BCN's operations in terms of services, products, and wealth management consulting.