HELPING A BRAND BECOME ITS OWN MEDIA SOURCE
Push away from traditional advertising and marketing modes to keep up with audiences and their new expectations: inform and entertain in an offbeat and exclusive fashion to transform observers into customers.
Charles BowTie is a brand influenced by British pop culture and contemporary art. Composed of vibrantly coloured timepieces that reflect its anti-conformist mindset, the brand was looking for an innovative way to stand out from the flurry of digital hubbub.
Inox has been affiliated with Charles BowTie since day one. Brand positioning, environment, and frame-of-mind were developed ahead of its digital strategy.  Content creation was manufactured entirely in-house in a timely, agile, and consistent fashion.

The launch took place with the deployment of our creative team on a trip to London, Charles' hometown. The goal was to spontaneously meet and interact with people and introduce them to Charles. The results produced candid and exclusive content revealing people's lighter side and sense of humour. Be the reason someone smiles today…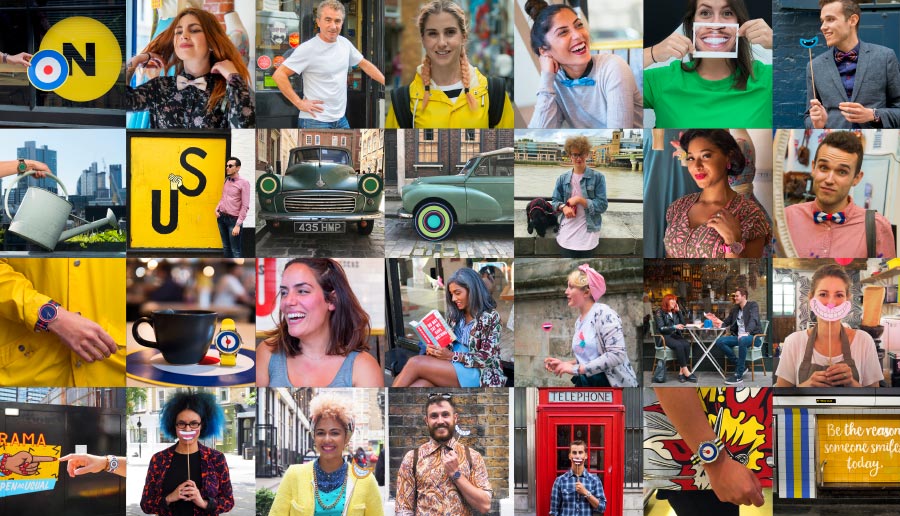 Never one for gloom and doom, Charles BowTie is neither one for "classic" pieces either. He radiates a passion for life, even down to his derbies. Fresh and anti-conformist, he takes great pleasure in standing out from the crowd by cultivating a quirky wardrobe and unique accessories reflecting his humour and finest discoveries.

Sparkling with creativity, Charles BowTie is like a treasure trove of joviality and good humour. Each piece comes with a signature bowtie and set of interchangeable wrist straps. Charles BowTie watches adapt, however extravagantly, to the whims and personality of its wearer. With dandyish flair, the brand gallantly owns its resolutely quirky vintage pop style.